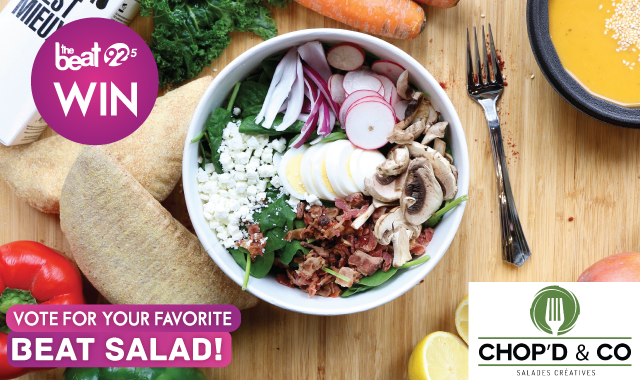 Who makes the best Beat Salad?
With the help of Chop'd & Co experts and their fine products, The Beat is creating the perfect salad!
Our mission: to make healthy taste great!
Who makes the best salads? Chop'd & Co of course! But who makes the best Beat Salad?
Will it be Team Vinny & Nikki, with their "Kick-start Salad"? Team CJ & Donna with their "Lunch Request Salad" ? or Cat & Claudia with their "Beat Mix"?
Here are 3 great salad recipes: Fill-out the ballot below and VOTE for your favorite! You could win 50$ gift cards to have lunch on us at Chop'd & Co! Contest ends at Noon - April 26!
Vinny & Nikki's Kick-Start Salad:
Starts with Chop'd & Co house mixed greens, organic herbs grown in-house, cilantro, Fiji Quinoa, grilled chicken, avocado, sprouts, English cucumber, red bell peppers, red onions, scallions, bacon and top it off with cashews and a great balsamic vinaigrette.
CJ & Donna's Lunch Request Salad:
Starts with a spinach base, fragrant cilantro (grown in-house), Fiji Quinoa, edamame beans, organic Tofu, avocado, English cucumbers, sun-dried tomatoes, mushrooms, beets and top it off with Pine nuts and low calorie balsamic vinaigrette.
Cat and Claudia's Beat Mix:
This mix is based on kale, organic herbs, basil, add a hard boiled egg, tuna salad, avocado, jalapeno peppers, red peppers, artichoke hearts, cherry tomatoes, kalamata olives, spicy peppers, Greek feta and top it off with pumpkin seeds and a ginger lime vinaigrette.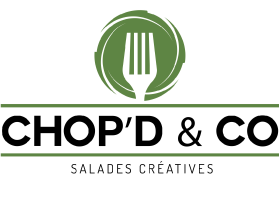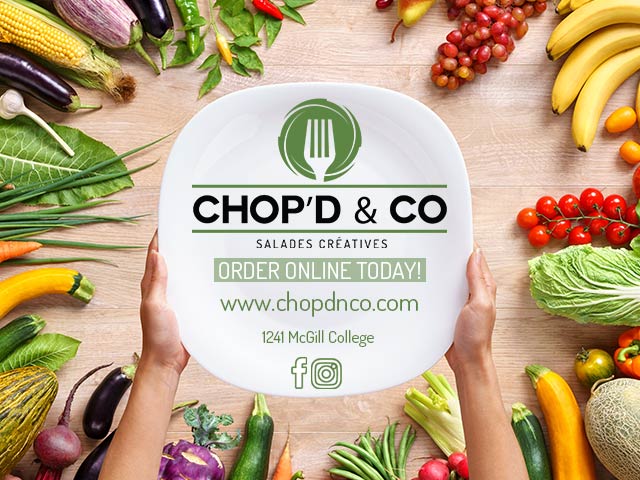 Chop'd & Co is a gourmet creative salad concept, one location, in down town Montreal, corner McGill College and Cathcart. Get ready to experience what makes healthy taste great:
The freshness of the ingredients: quality, local products, from farm to table
Professional chefs that create unique salad recipes and dressings made every morning
The freshly baked Chop'd & Co signature whole wheat pita
Chop'd & Co makes it easy to order your salad for a specific time! So when you come in your salad is ready!
Traditional Counter service and self-service kiosks in store
Download the Mobile App
Get 20% discount week days after 4pm and weekends
Eat in or out
They even have curb side service
Are you a member ?
* mandatory fields
Participation Form
Text to
92925
'Weather'
To get the 24 hour forecast
'DJ'
For the last 5 songs played