Montreal's Autism Speaks
Come join Claudia Marques and the Beat Squad on May 28th at Tomlinson Fieldhouse as we walk in support of Autism Speaks.
Montreal's Autism Speaks Canada WALK/MARCHONS is a FREE family friendly event and our annual signature autism awareness and fundraising activity to fund vital research that will lead us to answers we need, raise money to support community family services, increase public awareness on issues locally and nationally. Funds raised in Canada stay in Canada.
Details
When: Sunday, May 28, 2017
Where: Tomlinson Fieldhouse, McGill University
Address: 475 Pine Avenue West, Montréal, QC (Directions)
Walk Distance: 3 km
Contact: ascQC@autismspeakscan.ca
Walk Information
Registration Begins: 08:30am
Official Walk Start: 11:00am
Event Ends: 12:30pm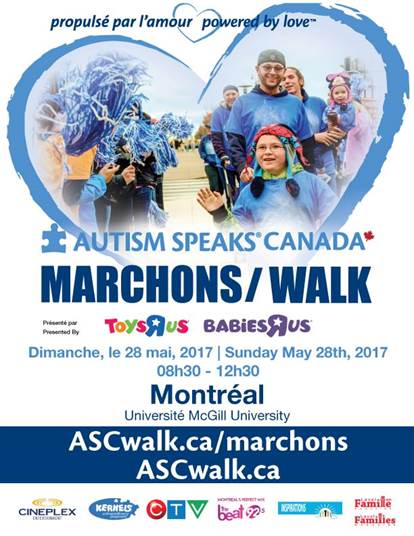 Welcome to The Beat's "What's On" Calendar – the best place to find out about The Beat events as well as community events in and around Montreal.
If you would like to submit an event, please click here: calendar@925thebeat.ca

The following details must be included:
- Date
- Time
- Address
- Phone number
- Brief description of the event
Text to
92925
'Weather'
To get the 24 hour forecast
'DJ'
For the last 5 songs played